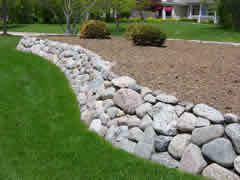 Visit us in our new location!  Superior Landscape Garden Center!  Located at 6693 S County Road F in Lake Nebagamon!!
Superior Landscape Contractors is an established business with an extensive list of satisfied customers. Our goal at Superior Landscape is to not only meet our customers' expectations but to exceed them.  We understand that a professional landscape is a big investment and our staff is committed to your satisfaction.
Superior Landscape Contractors offers a wide variety of landscaping options. From several acres of turf establishment to small brick paver patios.  Hydro-seeding, sodding, brick paver patios & sidewalks, boulder walls & erosion control are just a few of the things that we have to offer.
We are a Dock Rite dock and boat lift dealer!!  Call or visit us today!  218-391-1541
Early Bird Sale! 20% OFF All Docks, Lifts and Accessories on orders placed by May 30th!